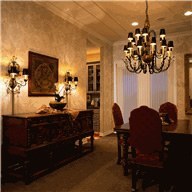 Generally, any item which is attached (nailed, screwed, or cemented in) to your property is considered a "fixture" and is to remain with the property unless your Realtor has notified all prospective purchasers in advance. In other words, after the offer to purchase is signed, there is no "oh, by the way, we'll be taking the dining room chandelier with us."
Fixtures include light fixtures, medicine cabinets, fencing, built-in fireplace screens, wall-to-wall carpeting, towel rods, shutters, and curtain rods and top treatments screwed into the walls. Attorneys tell us that the last is the single biggest issue of contention nationwide. This can cause great trouble at the buyer's final walk through and at the closing table. If you are planning to take your draperies play it safe; be specific and declare window treatments as an exclusion in advance. Let no ambiguity remain.
As for appliances, any built-in appliance remains with the property (dishwasher, disposal, built-in refrigerators, water conditioners, etc.) as well as the stove and oven. Freestanding refrigerators, washers, and dryers, however, are considered personal property and will be removed from the premises unless otherwise stipulated or agreed upon in negotiations.
On a final note, a long list of exclusions can turn buyers off (particularly if you are asking a premium for your property). From a marketing perspective, if you're planning on a number of exclusions you'd be better off removing and storing those items and replacing them with others prior to offering the property for sale.